Now Watching: {{ playlist.onNowText }}
Up Next: {{ playlist.upNextText }}
"From www.TopSecretRecipes.com Thin crusty strips of pizza dough topped with herbs and melted Italian cheese, Italian sausage and pepperoni (sausage and pepperoni are optional) served with marinara sauce."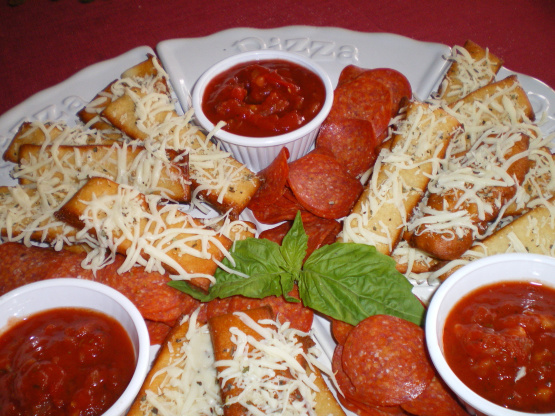 TSR Version of Applebee's Pizza Sticks by Todd Wilbur
1 recipe photo
Chef's Note
"From www.TopSecretRecipes.com Thin crusty strips of pizza dough topped with herbs and melted Italian cheese, Italian sausage and pepperoni (sausage and pepperoni are optional) served with marinara sauce."
Directions
Preheat oven to 425 degrees.
Prepare the dipping sauce by combining all the marinara ingredients in a small, uncovered saucepan and bringing the mixture to a boil.
Reduce heat, cover and simmer the sauce for ½ hour.
(The sauce can be made ahead and kept, refrigerated for several days.) Prepare the pizza sticks by first proofing the dough.
Unroll the dough onto the cutting board and straighten the edges.
It should form a rectangle that is longer from left to right than top to bottom.
With a sharp knife or pizza cutter, slice through the middle of the dough lengthwise.
This will divide the rectangle into two thinner rectangles that will measure 4 to 5 inches from top to bottom.
Slice the dough from top to bottom into 1 ½-inch-wide pieces.
You should have somewhere between 20 and 24 dough slices.
Place the slices onto a greased cookie sheet about ½ inch apart and bake for 3 minutes.
You may have to use more than one cookie sheet.
This will proof the dough so that it becomes stiff.
Heat vegetable oil in a frying pan or deep fryer to 350 degrees F.
Oil should be at least ½ inch deep if using stovetop pan.
You will want to use more oil with a deep fryer.
Fry pizza sticks 5 to 6 at a time for about 1 minute per side or until they are a dark golden brown.
Remove them from the oil onto a cloth or paper towel to drain.
get the genius kitchen app.
Watch on your iPhone, iPad, Apple TV, Android, Roku, or Fire TV.
Learn More