"A nice appetizer dish from the Amarula Cream website. General guidelines for concerting C temps to F: Fairly low: 160 deg C = 325 deg F Moderate: 180 deg C = 350 deg F Hot: 200 deg C = 400 deg F. Slightly modified. :)"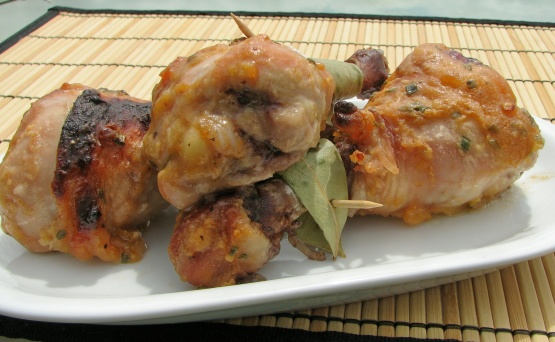 Bittersweet Amarula Drumsticks
2 recipe photos
Directions
Prepare the drumsticks by cutting the skin loose around the bone and pushing in down with a scraping movement, using a small sharp knife.
Cover exposed bone with foil.
Dust meat lightly with seasoned flour.
Mix the chives, marmalade, lemon, Amarula Cream and salt together.
Coat the drumsticks in this mixture and arrange in an ovenproof dish.
Bake at 200 degrees (200 deg C = 400 deg F) for 45 minutes until crispy; Remove the foil.
May be served warm or at room temperature.
For Serving (garnish):.
Wrap a bayleaf around each exposed bone-tip. Secure the leaf with a toothpick or porcupine quill. **TIP: It may be helpful to soften the bay leaf in a pan of heatd water to make them pliable and avoid the leaves being brittle and breaking or snapping when you atttempt to wrap these. ;).
Serve on a bed of brown rice or your favorite starch.
Enjoy! ;).