"Ready, Set, Cook! Hidden Valley Contest Entry. This is a tender savory scone. Literally a mini meal in a scone!! This recipe makes 16 mini scones."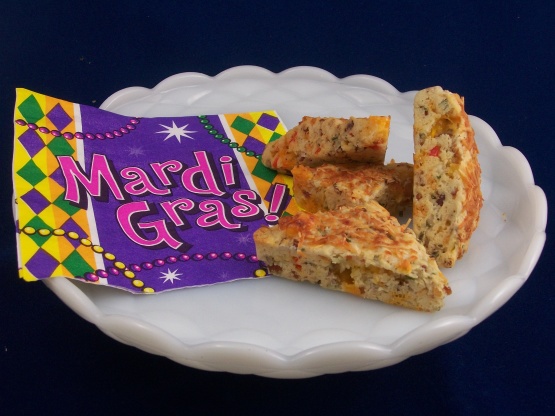 Carnival Confetti Scones #RSC
1 recipe photo
2

tablespoons Hidden Valley Original Ranch Seasoning Mix

2

cups all-purpose flour

1

teaspoon sugar
1⁄2 teaspoon salt

1

tablespoon baking powder
3⁄4 cup sharp cheddar cheese, small cubed or 3⁄4 cup shredded sharp cheddar cheese
1⁄3 cup smaller cubed red and yellow assorted mini sweet peppers
1⁄4

cup cubed baby carrots (the same size as the peppers)

1⁄4 cup snipped chives (the same size as the peppers and carrots) or 1⁄4 cup chopped chives (the same size as the peppers and carrots)

1

cup frozen butter, . keep frozen until you are ready to incorporate all ingredients (cubed into small cubes)
3⁄4 cup cooked bacon bits (I used Oscar Mayer Ready to Serve Real Bacon Bits) or 3 ounces cooked bacon bits (I used Oscar Mayer Ready to Serve Real Bacon Bits)
1⁄4

cup Greek yogurt

3⁄4 cup half-and-half, plus

2

tablespoons half-and-half, to brush on top of scones before baking
1⁄4 cup parmesan cheese
Directions
ASSEMBLAGE OF INGREDIENTS:.
Chop the following and place in a mixing bowl and set aside:.
¾ cup sharp cheddar cheese small cubed or shredded.
1/3 cup smaller cubed red and yellow assorted mini sweet peppers.
¼ cup cubed baby carrots (the same size as the peppers).
¼ cup snipped or chopped (the same size as the peppers and carrots) chives.
Now assemble dry ingredients:.
2 cups all purpose flour.
1 teaspoon sugar.
½ teaspoon salt.
1 tablespoon baking powder.
Now Sift Dry Ingredients into another container.
ADD: 2 tablespoons of Hidden Valley Original Ranch Seasoning Mix and bacon bits and stir well.
Mix together wet ingredients:.
¼ cup Greek yogurt and ¾ cup half and half.
FINALLY:.
Add butter cubes to dry ingredients and mix in with pastry cutter or a fork. Do not use your fingers as the dough will warm up too much and the scones will not be tender. Add cheese, bacon bits, and all the veggies. Lastly add the wet ingredients and mix well with your fork or a spoon.
Divide the dough as evenly as you can into your mini scone pan. Baste the tops with 2 tablespoons of half and half and sprinkle Parmesan cheese on tops.
Place your scone pan in the refrigerator and preheat oven to 400 degrees.
When oven is ready place scone pan on center rack in oven and bake until golden brown from 18 to 25 minutes depending on your oven. Keep an eye on the color and remove when golden brown.
Turn them out onto a wire rack and enjoy! Bon Appetit!