Want more from Genius Kitchen?
Watch on your Apple TV, Roku, or Fire TV and your iOS, Fire, or Android device.
Learn More
"After scouring through here looking for a good recipe for the Raw Food diet, I have decided to upload this one. This is not my recipe, so please do check out the website where I took it from, as there is a lot of valuable additional information regarding this recipe and other important topics to be had. http://www.catinfo.org/?link=makingcatfood#The_Recipe"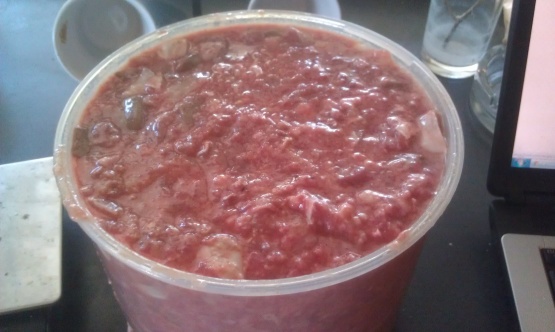 Cat Food - Raw Diet
1 recipe photo
3

lbs poultry, thigh meat bones & skin (whole carcass) or 2 1⁄4 lbs ground rabbit (whole carcass)
3⁄4 lb boneless chicken (only if using RABBIT) or 3⁄4 lb turkey, meat skin & fat (only if using RABBIT)

1

cup water (or, preferably, more if your cat will eat it with more water)

2

eggs (use the yolk raw but lightly cook the white)

5

g fish oil (a good source of essential fatty acids, note that this is increased from the original amount of 2,00)

1⁄3

g vitamin E (powdered E in capsules is the easiest to use)

1⁄16

g vitamin (B12 capsules or tablets)

2

g taurine (use powdered, either in capsules or loose)

3⁄4 teaspoon salt, For people living outside of the United States who cannot source Morton Lite Salt with iodine, use 1 (with iodine (when using chicken but not when using rabbit (contains potassium and sodium, make sure )
Directions
Ground rabbit (meat, bones, and liver): thaw it and mix in the ground and chunked chicken/turkey thigh meat and skin as discussed above.
The supplements are added to the water and, once they are all dissolved, this supplement slurry is added to the meat/bones/skin/liver/eggs. use hands to thoroughly mix the food. After the food is mixed well, it is portioned into containers and put into the freezer.
Note that for this preparation, a grinder (for use with bones) is not needed but a food processor is.
Chicken/turkey thighs: The second way to make food is to.
Bake (at 350 degrees) the chicken/turkey thighs and liver leaving ~50% of the thigh meat raw. (The time needed varies depending on how thick the thighs are.) use a Pyrex dish to use all of the fat drippings so you can add them to the ground meat/bones/skin/liver/eggs.
Remove from the oven and put in cold water to stop the cooking process.
Remove some of the raw meat from the bone for chunking.
Cut the meat into chunks for dental health -- as much as you have the patience for. - Use sharp scissors. Chunks should be between the size of a pea to the size of a die.
Run the meaty bones and non-chunked meat and skin through the grinder using a plate with 4 mm holes:
Run the liver through the grinder along with the meat and bones. It is also a good idea to run the cooked eggs through the grinder. This way, they will be broken up and more evenly dispersed through the food. (Some cats don't like the taste of egg.) The ground meat/bones/skin/liver/eggs plus the fat drippings from the baking pan and the chunks of meat are then placed in the refrigerator while the supplements are mixed up.
Mixing up the supplement slurry:
Whether you are using pre-ground rabbit with additional ground boneless poultry meat and skin, or chicken/turkey thighs that you have ground yourself, it is now time to combine the water, egg yolks (if you did not cook the whole egg), vitamin E, vitamin B-complex, taurine, and fish oil with a whisk.
Note that it is helpful to put the fish oil capsules in warm water in advance of mixing up the supplement slurry. It takes about 15 minutes for them to dissolve. It is ok to leave the capsules in the water. Most cats readily eat them but if your cat is not fond of fish, then you may want to remove them.
Remember to add the Lite salt if using only chicken/turkey thighs. This is an important source of iodine since the thyroid gland is not included when using only chicken/turkey parts.
Pour the supplement slurry into the meat/bones/skin/liver/egg mixture. Mix very well then portion into containers and freeze.
Ideally, the food should only be in the refrigerator (in a completely thawed state) for 48 - 72 hours so keep that in mind when choosing your container size.
get the genius kitchen app.
Watch on your iPhone, iPad, Apple TV, Android, Roku, or Fire TV.
Learn More