"I invented these extreme variations of Quiche Lorraine at the end of ZWT5 based on Karen Elizabeth's
Classic Quiche Lorraine
#299242, taking advantage of the unique ingredients I had bought over the tour. Each variation I tried and pictured was great in its own way. Next time, if I had piperade sauce on hand (Julie B's Hive's
Piperade for One or Two
#233205), I might add that on a wedge. The measurements for toppings are for 1 choice of topping to cover the entire quiche. Choose 1,2,3,4, or 5 toppings, and make a decorative pattern, allowing small wedges to be cut of this rich quiche. If available, Pillsbury's refrigerated pie crust works well (do not prick or pre-bake) in a glass deep-dish pie plate. To make the crust less soggy, wash the bottom crust with egg white and refrigerate for 10 minutes before adding the filling. I recommend very small wedges (12 servings), this is very rich. Serve with a side salad with vinaigrette dressing."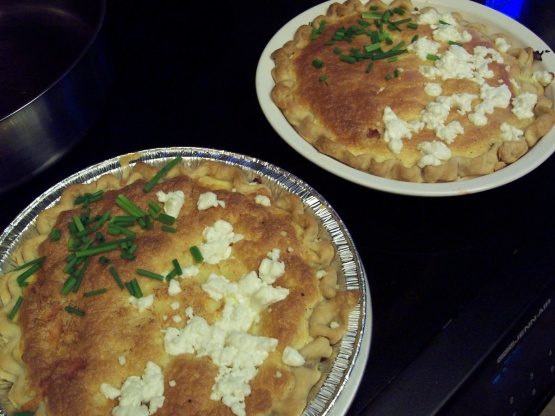 Kate's Quiche Lorraine Souffle Style Extreme Variations
8 recipe photos
PASTRY DOUGH

9

ounces plain flour
1⁄16 teaspoon salt (1 pinch)
4 1⁄2 ounces cold unsalted butter (1 stick plus 1 tablespoon)

1

egg yolk

3⁄8

cup ice water

FILLING (see recipe description)

5 -6

ounces bacon, cut in small pieces

1

tablespoon white truffle oil

3⁄4-1 cup shallot, finely chopped (2-3 large shallots)
1 1⁄2 cups heavy cream (half may be fat-free half-and-half if you must)

3

egg yolks

1⁄4 teaspoon freshly grated nutmeg
1⁄4 teaspoon white pepper

3

egg whites, beaten to soft peaks

TOPPING VARIATION A GRUYERE

6

ounces gruyere, shredded (may be put on top of shallots and cream reduced)

TOPPING VARIATION B CHEVRE

4

ounces chevre cheese (Rolled in Herbs ( Sun-dried tomatoes, fresh dill, green onion, Italian parsley, provincial herbs ( ) or 4 ounces goat cheese (Rolled in Herbs, Sun-dried tomatoes, fresh dill, green onion, Italian parsley, provincial herbs ( )

TOPPING VARIATION C BOURSIN

4

ounces boursin with garlic and fines herbes, crumbled (may be substituted for 1/4 cup heavy cream in filling)

TOPPING VARIATION D CHIVES

1

tablespoon fresh chives, chopped (as garnish)

TOPPING VARIATION E PIPERADE

4

teaspoons olive oil
1⁄2 cup onion, thinly sliced
1⁄2 cup green pepper, thinly sliced
1⁄4 teaspoon salt
1⁄4 teaspoon black pepper
14 1⁄2 ounces plum tomatoes, drained and chopped
Directions
Preheat oven to 400 degrees F (200 C, or Gas Mark 6). Butter glass deep-dish pie plate or 9-inch loose-bottomed flan tin.
PASTRY (if not using Pillsbury refrigerated pie crust):
Sift the flour and salt into a large mixing bowl, rub in the butter until the mixture resembles breadcrumbs. (Some people use a food processor.).
Mix in the egg-yolk and sufficient iced water to bind the ingredients.
Knead the dough lightly, and then chill in the refrigerator for 30 minutes. (Cover the pastry with clingwrap).
STAGE 1 FILLING:
Let eggs come to room temperature for 30 minutes.
Meanwhile, chop bacon into small pieces and cook over medium-low heat in 10-inch skillet until lightly browned. Drain fat off.
Meanwhile, chop shallots. Heat white truffle oil in 8-inch saute pan for 1 minute at medium heat, then saute shallots until lightly browned. Do not drain.
OPTIONAL PIPERADE SAUCE:
In a 9-inch skillet, heat 2 teaspoons of the oil over moderate heat for 1 minute.
Add the onion, green pepper, and 1/8 teaspoon of the salt and pepper. Saute for 3 minutes until softened.
Add garlic and tomatoes and saute 4-5 minutes longer or until the mixture is dry. Transfer to a medium-size bowl and set aside.
STAGE 2 FILLING:
Separate eggs into 2 medium bowls.
In egg yolk bowl, add heavy cream (if choosing to add Gruyere or Boursin in filling, reduce heavy cream to 1 1/4 cups), nutmeg and white pepper. (If choosing to add Boursin in filling, add to cream mixture.) Whisk until smooth.
In egg white bowl, beat with electric beater until soft peaks form.
ASSEMBLE QUICHE:
If you made your own pie crust, roll out the pastry on a lightly floured surface and line a buttered 23cm/9 inch deep-dish glass pie plate or loose-bottomed flan tin. Prick the base of the flan with a fork.
If using Pillsbury pie crust that has come to room temperature, roll out carefully and line pie plate or flan tin. Do NOT prick base of flan with fork.
Sprinkle the cooked bacon pieces over the base of the pastry case.
Spread the sauteed shallots evenly across the top of the bacon.
If including Gruyere in filling, distribute it evenly across the top of the shallots.
Carefully fold egg whites into egg yolk-cream mixture, then pour over solid ingredients already in pie plate.
Bake in a pre-heated oven at 200C/400F/Gas Mark 6 for 30 minutes, or until set and golden brown.
GARNISH QUICHE:
Garnish the quiche with the toppings of your choice; I recommend keeping each garnish distinct. Let stand for 10 minutes.
Use sharp knife to slice into small wedges, this is very rich.
get the genius kitchen app.
Watch on your iPhone, iPad, Apple TV, Roku, or Fire TV.
Learn More