"If you're anywhere from the midwest, you will be familiar with these "loose meat" sandwiches. I spent years looking for a recipe that duplicates what I remember eating while growing up. After much experimenting, my sisters and I finally declare this recipe as IT. I hope you think so too! UPDATE: I spent an afternoon with my Mom at the original Nuway location down on East Douglas in Wichita, KS and was able to refine the recipe a bit more after talking to someone who had worked there for years. I've adjusted the recipe to reflect the information I was given, to be more precise. I found they cook the meat at a high heat in a cast iron cooker, then hold it at around 200 degrees to serve the lunch crowd. I was told there is no seasoning in the meat, but that all the flavor is what is on the bun. I made these again to test that theory, and realized the dill pickles are salty enough that you don't need any extra seasoning. I orginally had counted the "holding" time and realized this actually only takes minutes to cook. Sometimes the best things are ultimately simple! These are the Real Deal."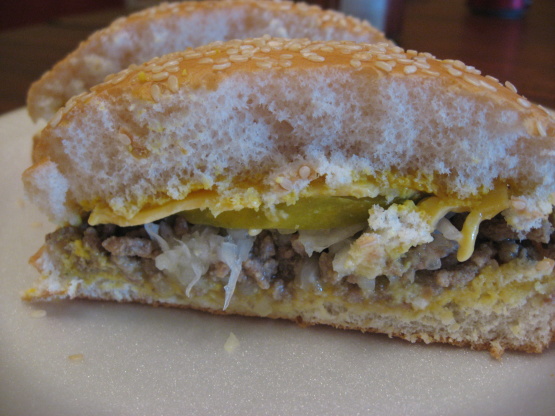 Nuways A/K/A Maid-Rites
3 recipe photos
READY IN:

20mins

SERVES:

4

UNITS:

Metric
236.59

ml water

453.59

g 80% lean ground beef

1

large white onion (finely chopped)

American cheese, slices
Directions
Pour water into a cast iron pan.
Add l lb. ground beef and keep stirring until meat is broken into very small pieces.
Bring to a boil and cook until water is reduced by half. (What happens is the beef browns, breaks up into smaller and smaller pieces, and becomes tender, while the water reduces and packs in the flavor. The fat is left in the water, not on the beef, while the beef is juicy.).
Ready the buns with French's mustard, a large dill pickle slice, fresh chopped onion and a slice of American cheese.
Dip a 1/2 cup strainer into the beef mixture, push the liquid through it with a spoon to the desired "juiciness", and turn over onto the bun.
Add the cheese, and put the buns together; cut into two pieces.
Cover the hot sandwich (with a deep lid or bowl, or wrap in waxed paper) for a couple of minutes to steam the bun and allow the cheese to melt.
Serve immediately with a cold root beer, and blast your way to the past!