"Rather it is just a touch of the stomach flu or one of many ferret illnesses, this soup can provide extra nutrients, fluids and a little bit of extra love. Most medications can easily be dissolved in your ferret's soup making the process easier for both of you. Since it tastes good, it is an excellent biweekly treat that is also good for your ferret. Start your ferret on some today. Ferrets can be worst than any child!!! (no, no, no I do not want to try something new) To introduce your ferret, gently orally syringe feed warm soup for about 3 to 5 days then offer some in their food dish. Good luck!!! Please note: this recipe is a all day event designed to yield the best and most natural nutritional soup. There are no sort cuts like using Campbell's or what I like to call unsure."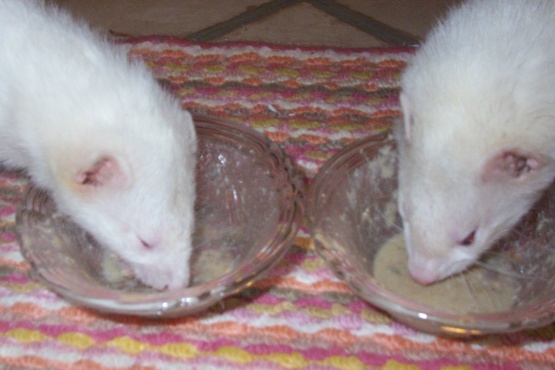 Pet Ferret's Soup
2 recipe photos
4

cups ferret food (kibble)

2

cups goat's milk

1⁄2

lb lard

3

tablespoons tapioca starch

12

eggs

1

lb chicken leg quarter

1

lb pork chop

2

lbs soup bones, neck bones work well too (optional)

20

cups water (roundabout)
Directions
Place meats into a large stock pot.
cover with water.
bring to a boil.
Reduce heat to simmer.
Simmer for 5 to 8 hours adding water to your both when needed.
Turn off heat.
Strain broth, remove meat, discard bones and ALL FAT, set aside.
Note: this should make around 7 cups of both more or less.
In a large saucepan melt lard over low heat, add tapioca starch and stir.
Stir milk into lard
add broth to lard/milk stir.
Separate eggs and beat.
Add some warm soup (broth/lard/milk mixture) to egg yolks, stir.
add egg yolk mix to the soup.
Stir for 30 sec.
Stir egg whites and ferret kibble into soup.
heat for 2 min with constance string and cool for 1 hour.
stir off and on when cooling soup.
Shred up meat well!
in a blender blend 4 parts soup, 3 parts water, 2 parts shredded meat for 10 to 20 sec and freeze ( this should make about 2 gallons of condense soup. I freeze mine in 20 one quart zip lock bags.)
unfreeze 2 tablespoons of soup in microwave add 2 tablespoons of water. (per ferret).
test heat, when lukewarm serve to your lucky little ferret.
get the genius kitchen app.
Watch on your iPhone, iPad, Apple TV, Roku, or Fire TV.
Learn More