"My DH was excited when I found this recipe in *Cool Cuisine* (Traditional Icelandic Cuisine) by Nanna Rognvaldardottir. The English translation of *Plokkfiskur* is *Mashed Fish* but I found that title more than a little off-putting for something that is so favored here & opted to use the Icelandic word. Per the intro, "In early times when Icelandic housewives served poached haddock (or other white fish) w/boiled potatoes several times a wk, there were usually leftovers & they were typically incorporated into this simple & very popular dish. Today people buy fresh fish just to make this dish & it is even sought after & found in upscale restaurants." (Times have been estimated, but this recipe begins w/the fish & potatoes already cooked so that time is not reflected) *Enjoy* ! - *Edited to Add* on 10/3: When visiting w/an Icelandic friend tonite Re this recipe, she said this dish is also popular in a gratin form that adds cheese (usually Gouda) to the mix, tops it w/extra cheese & then finishes it in the oven to heat thru & melt the cheese. *Yum* !"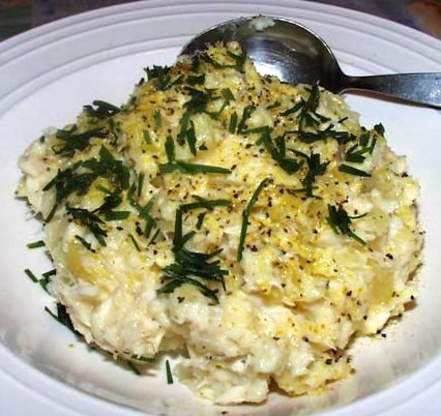 Plokkfiskur from Iceland
1 recipe photo
READY IN:

25mins

SERVES:

4

UNITS:

US
560

g haddock (cooked, 1 1/4 lbs) or 560 g cod (cooked, 1 1/4 lbs)

560

g potatoes (boiled & peeled, 1 1/4 lbs)

1

white onion (chopped finely)

350

ml milk (12 oz)

55

g butter (2 oz)

3

tablespoons flour

salt and pepper

2

tablespoons chives (freshly snipped to add color, flavor & garnish)
Directions
Skin, bone & break up the fish into flakes.
Roughly chop potatoes & finely chop onion.
Slowly heat milk in a saucepan almost to a boiling point.
In a med to lrg sized non-stick saucepan (while the milk is heating), melt butter & saute onion over med-heat till soft. Do not allow it to brown.
Sprinkle flour over onion, stir well & cook for 1-2 minutes. Gradually add warmed milk, stirring continuously. Simmer for 3-4 min, stirring often.
Add flaked fish & stir briskly to break up the fish flakes completely. Season liberally w/salt & pepper.
Add potatoes & stir gently. Cook over low-heat till heated through.
Spoon into 4 bowls & sprinkle ea serving with 1/2 tbsp chives. Serve hot w/dark rye bread & butter.
UPDATE: I have made this recipe now & it actually comes together faster than the time stated, esp w/the fish & potatoes cooked well-ahead & just heated in the cream sauce. Pls take *SEASON LIBERALLY* to heart. I used McCormick Lemon Pepper & Seasoning Salt liberally in the prep, we added more at the table & it was perfect w/this!