"Ready, Set, Cook! Hidden Valley Recipe Entry. My hubby calls these "little golden nuggets of goodness"! I just call them delicious!! Little Spicy Ranch, Southern Fried Catfish Nuggets served with Creamy Jalapeno Ranch Tartar Sauce for dippin' 'n dunkin'! Best served hot with ice cold pitchers of beer and sweet tea, cole slaw, best friends, and....tall tales of how you caught that catfish!! Enjoy, y'all! ;-)"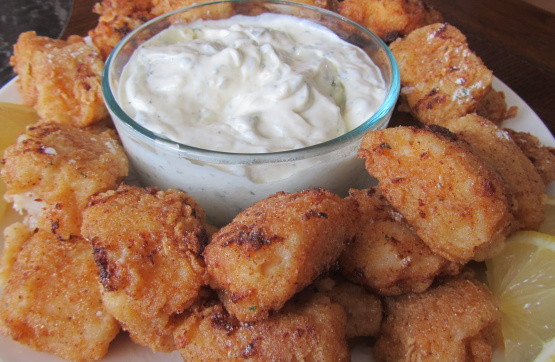 Southern Fried Mud Puppies W/Jalapeno Ranch Tartar Sauce #RSC
2 recipe photos
Directions
For the tartar sauce: Stir all ingredients well in medium bowl, cover and chill.
For the catfish: Cut catfish into large bite-sized pieces ( 1 1/2 x 1 1/2 inches). In one pie dish, combine flour, breadcrumbs, cornmeal, dip mix, salt, cayenne and pepper. In second pie dish, whisk buttermilk with sriracha sauce. Set a cooling rack over one baking sheet. Line a second one with newspaper.
Heat oil in deep pot or dutch oven to 375 degrees. Adjust flame to keep at correct temperature.
Toss each catfish nugget into the buttermilk mixture with a fork, rest on fork over dish and let excess drip away, toss into flour mixture and coat, tossing with other hand. Place onto cooling rack to dry. (Double-dip if you prefer more breading.) Let all dry and rest for about 5 minutes before frying.
Fry a "test piece" for about 3-5 minutes til golden and fish is done in the middle. (Flakes when broken in half.) *Write down the time so you know how long to fry the rest. *This depends on what oil you are using, how hot your oil is and how thick your catfish fillets are. Every fish varies just a bit. ;) Fry about 8-10 pieces at a time *not overcrowding*. Place cooked fish onto newspaper-lined baking sheet as you go. (Keep warm in low oven if desired.) Serve just as is or transfer to a platter. Eat hot and enjoy with tartar sauce and lemon wedges!